Tripawds is a user-supported community. Thank you for your support!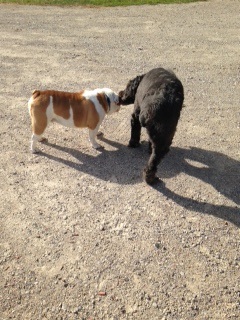 Bruce started chemo on Monday Sept 19, and so far everything is going well. He was very good at the clinic and endeared himself to the staff. He has not had any noticeable side effects yet, I will be keeping my fingers crossed on that one.
Unfortunately we did lose one of our creatures last Wednesday, we have a small business and for the last 10 years we have had a guard dog, his name was Azore, he was 4 when he came to us, he had been bounced around from home to home for a few years, he did have some quirks and had trouble fitting into a family, but he was a wonderful guard dog and for the last few years has been more of a mascot than a working dog. He had a non cancerous growth on his neck, and last year in early November it had abscessed, it was determined that he was not a good candidate for surgery and so we did what we could to prevent infection and decide to let him live  out his days. In the last year he lost his hearing, some of his sight and was having difficulty walking, and just seemed to be struggling in general, on Monday we called the vet and arranged to take him in on Wednesday, we made sure he had lots of love and his favorite treats in between.  He was a part of our lives for many years, and even though he lived at our shop, he was still family,  it's never easy to lose them.