Tripawds is a user-supported community. Thank you for your support!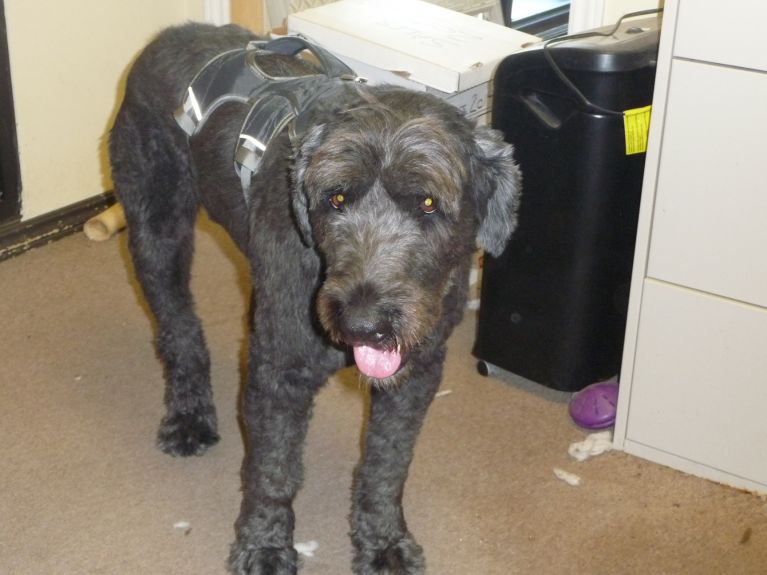 We brought Bruce home in March of 2011, he was a nine month old puppy, he was very shy and reserved but also the sweetest and gentlest dog we had ever met. He joined our small family of 3 humans and 1 English Bulldog (Butch) and they became best friends (they are exactly one month apart in age). In late November of 2015 we added a third member to the canine side of the family with a 5 week old orphan Bullmastiff/German Shepherd cross female.
I took Bruce into our vet on August 15, 2016 because he had been limping off and on for a few week, we had checked for any obvious reasons for and couldn't find any, but in a household with 3 large dogs, sometimes they play and little rough and it's not entirely uncommon for the occasional minor injury to occur.
Our vet felt that x-rays were in order and diagnosed what she thought was a knee injury. On August 23 we had an appointment with an orthopedic surgeon, who immediately upon looking at Bruce's x-rays, decided he needed more x-rays a little lower on his left rear leg. What he saw there came as complete shock to us, Bruce was diagnosed with osteosarcoma, luckily his chest x-rays appeared clear. But we had some big decision to make. After a lot of talking, and researching and crying, we decided on amputation, followed by chemotherapy.
His surgery is scheduled for August 31, yesterday we went an got him his new harness, and he's been trying it out, so far he doesn't seem particularly impressed with it.